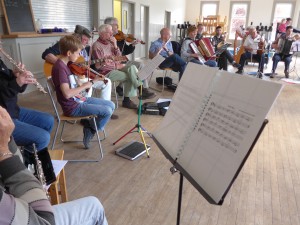 Family sessions are on the first Sunday of the month at the Riverside Bowling Club, Queenshaugh Drive, Stirling FK8 1XL.  Sessions are led, but informal, with visiting musicians sometimes joining us. More experienced players help beginners, and we particularly encourage family groups to get involved.
You can expect to learn new tunes, play over older ones, and have a friendly word with other musicians and music leaders. There are announcements about upcoming events, and a chance to suggest new activities.
Music notation and sound files for session repertoire can be found on the Repertoire page.
Dates of Sunday sessions for the current year are on the Events Page